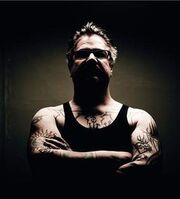 Richard Kadrey is the author of the
Sandman Slim series
. He has been immortalized as an action figure, and his short story "Goodbye Houston Street, Goodbye" was nominated for a British Science Fiction Association Award. A freelance writer and photographer, he lives in San Francisco.
Ad blocker interference detected!
Wikia is a free-to-use site that makes money from advertising. We have a modified experience for viewers using ad blockers

Wikia is not accessible if you've made further modifications. Remove the custom ad blocker rule(s) and the page will load as expected.